Welcome to the Hampshire and Isle of Wight Branch of Butterfly Conservation
Butterfly Conservation was formed by a small group of dedicated naturalists in 1968 following the alarming decline of many beautiful butterflies and moths, a decline that the society aimed to reverse. Our vision is of a world rich in butterflies and moths for future generations to enjoy. Butterflies are beautiful and intrinsically valuable. Together with moths, their sensitivity to environmental change makes them valuable indicators of the health of the countryside.
Butterflies
Moths
Reserves
There are 46 species of butterfly occurring in Hampshire and the Isle of Wight. Of these, 35 can be seen on our reserves.
More about our butterflies...
Around 1940 species of moth have been recorded in Hampshire and the Isle of Wight, over 600 of these on our reserves.
More about our moths...
Butterfly Conservation has over 25 reserves across the UK, including 3 in Hampshire: Yew Hill, Magdalen Hill Down and Bentley Station Meadow.
More about our reserves...
Opportunity to support Hampshire countryside
Enjoy Hampshire's countryside? Want to have your say? Hampshire Access Forum are looking for new members. Hampshire Countryside Access Forum is a statutory advisory body established under the Countryside & Rights of Way Act 2000. It includes a number of interest groups from landowners, farmers, councillors and rural business owners, to walkers, horse riders, carriage drivers, cyclists, motor vehicle users and people with disabilities. Application deadline 25 September 2017. More details here ...
National Symposium 2018
The next National Symposium will be held at the University of Southampton from 6-8 April 2018. Take the opportunity to hear authorative speakers on the latest breakthroughs in the ecology and conservation of butterflies at a Hampshire venue.
More here ...
Partnership helps species come back from the brink
Some of the UK's most threatened species, including the Chequered Skipper butterfly, will be brought back from the brink of extinction, as part of an ambitious £4.6 million project funded by the National Lottery.
More here ...
The Wider Countryside Butterfly Survey needs help from Branch members.
Click here ... for details.
NEW book on Butterly Walks in Hampshire and the Isle of Wight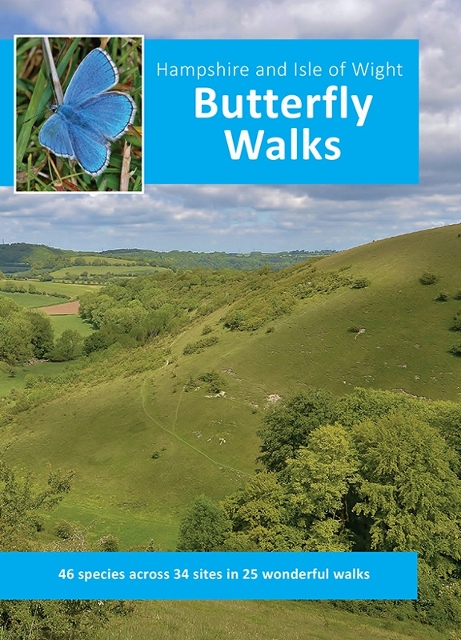 You can inspect some sample pages from the book here ...
The Press Release about the book is available here ...
To order your copy send a cheque for £7.25 (£6.00 for the guide and £1.25 for postage and packing) made payable to Hampshire and Isle of Wight Branch Butterfly Conservation, together with your name and postal address to:
Kevin Freeborn, c/o Butterfly Conservation, Unit 2, Bull Pens, Manor Farm, Itchen Stoke, Alresford, Hampshire, SO24 0QT
Copies will also be available for purchase (cash only) from Jayne Chapman on the Wednesday Wanders, and Ashley Whitlock on the branch fieldtrips where he is the walk leader.
Or to buy a copy online click here ...
To report any inaccuracies in the book please email here.
Easy Fundraising
You can now support our ongoing butterfly and moth conservation work when you buy products and services online. Simply click on the easyfundraising.org.uk logo and select "Butterfly Conservation - Hampshire and Isle of Wight Branch".

How does it work? Firstly you have to register with easyfundraising and name the charity you wish to support (need to provide name, email and a password). Then when you wish to purchase something on-line go to the easyfundraising website, select Butterfly Conservation - Hampshire & Isle of Wight Branch and then click through to the company you wish to buy from. There are over 2000 companies registered there. It doesn't cost you any extra as the company you purchase from pays a small sum directly to the Branch. If you wish to know more please go to the easyfundraising.org.uk website.
Sponsorship
The branch is pleased to sponsor the excellent HantsMoths website.